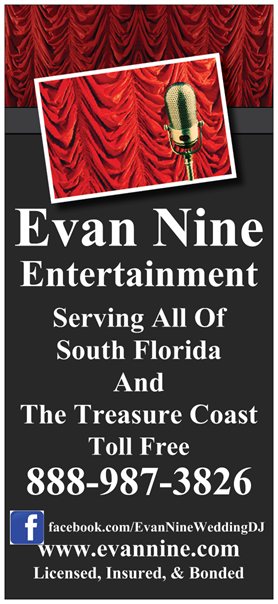 Call Toll Free
888-987-EVAN (3826)




"How To Search For The Proper Wedding DJ"


Click The Triangle Below For


Click The Triangle Below For
Eclipse Videography Demo




Click Above For
Wedding Officiant & Photo Services


Click Above For Fun Wedding Party Supplies



Click Above For My Facebook Page


"If You Want Your Reception To Be A 10"
As a gift to the bride and groom, I volunteered to provide the DJ services for the reception. I actually already had a DJ in mind. One that I had seen at an office Christmas party the previous year. Anyway, I went ahead and searched the internet for "Wedding DJs" in South Florida. Several came up and I checked them out. The only web site of any material value I found was Evan Nine's. And his site provided video of his work. Now I consider myself a careful shopper. As my gift for the wedding, I wanted to make sure it was going to be a good one. Folks, let me tell you Evan Nine made my gift a "TEN". As a retired military man, I know leaders get things done. Evan's lengthy experience at choreographing the right reception is obvious and unsurpassed in my book. He dots all the "I"s and crosses all the "T"s. From the moment he arrived, and he arrives early, he began gathering information, coordinating with the caterer, photographer and the wedding party when they arrived. The excitement began when he announced the grand entrance of the wedding party and then, the bride and groom. He has a fantastic voice with inflections that create energy and suspense. The crowd was immediately involved and it never stopped. Evan injects humor, pizzazz, and fun into the entire event. He sets the right tone moment by moment. He even controlled the lighting. His music selection was perfect as evidenced by the prolific participation on the dance floor. Everyone from 8 to 80 scuffed the floor up. He honored all personal requests by the bride and groom and made sure that everyone enjoyed themselves. I must honestly say I am grateful that he made my gift to the bride and groom a TEN. I even told him he should change his name to Evan Ten. All of us who attended this wedding and reception had a very fun and memorable experience. Thank you so much Evan. You certainly exceeded my greatest expectations.
Most Sincerely,
Don Showerman - 772-360-9671


Click Here For South Florida's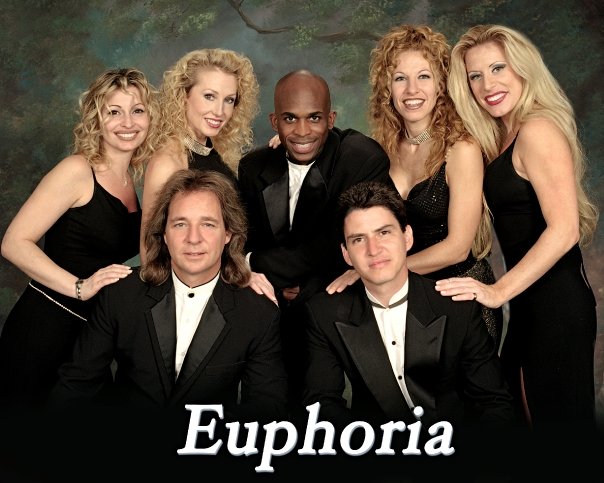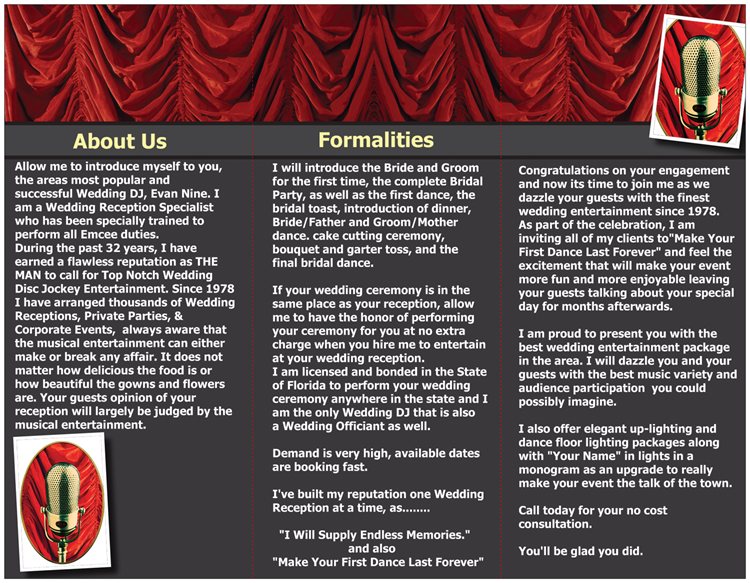 Evan Nine
Doing A Walt Disney World
Wedding Reception